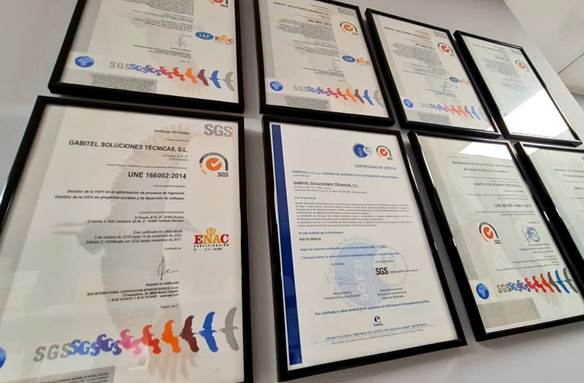 When founded in 2001, Gabitel had the clear purpose of becoming the benchmark for highest quality telecommunications engineering in the province of Huelva. This commitment to quality of presentation, deadlines and delivery is what has led us to become the leading engineering company for Telecommunications Infrastructure projects in our province here in Spain. The constant evolution of the company and the loyalty of its clients have allowed Gabitel to expand our services into building and industrial engineering, extending to other provinces and countries as well as expanding into new sectors such as electrical engineering, renewable energy and acoustics. At present, Gabitel's team comprises of highly trained and specialised engineers to fulfil our clients' needs and exeed their expectations in a wide variety of market sectors.
We are proud to be certified to all standards displayed below and are currently applying for ISO 27001 certification.
Our Quality, Environmental and Energy Management System as well as our R&D&I Policy have the fundamental goal of adapting the criteria defined by International Norms such as UNE-EN-ISO 9001, UNE-EN-ISO 14001, UNE-EN-ISO 50001 and UNE-EN-ISO 166002 to satisfy the needs of all the companies and individuals for whom we work. They form the foundation of our work and help us to organise our day to day business activities – based on participation and collaboration. The success of our work is based on motivation, training and communication between all the interested parties.
This document represents a framework for the establishment of Quality, Environment, Energy and R&D&I Management goals and objectives, as well as their monitoring and review.
Our management team owns this Quality, Environment, Energy and R&D&I Management Policy with the commitment to:
 Meeting the requirements demanded by customers, applicable legislation and regulations, as well as further requirements to which our company subscribes.
Guaranteeing the commitment, motivation and capacity of our professionals.
Achieving all objectives for each project.
Warranting the satisfaction of our clients through continuous improvement in our competitiveness.
Driving the continuous improvement in the quality of services and products, as well as the efficacy of the Integrated System for Quality Control, Environment, Energy and R&D&I Management.
Taking the necessary steps to prevent negative environmental impact that may result from our daily activities.
Protecting the environment through prevention and reduction of pollution.
Continuously improving our energy performance, aiming our efforts at the efficient use of the necessary energy resources.
Supporting the acquisition of energy efficient products and services to improve the company´s energy performance.
The management team will ensure that this policy is implemented, disseminated and understood by all the company´s employees as well as regularly reviewed and updated for it correct adaptation.
Our policy are continuously evolving with our company, which is why we review it regularly. It is placed in a visible spot for all the staff to be viewed and it is regularly communicated to be understood at all levels of the organisation.
Our people are our core asset. This is why, since the beginning of our company, we have regarded our Health and Safety Policy as a key element in all we do. Therefore, we are fully committed to the highest standards of occupational health and safety for all our employees and collaborators.
As a result of this continuous commitment, Gabitel promotes the integration of risk prevention in all of our processes to guarantee not only the compliance with laws and regulations, but also those requirements specific to our clients and those we established internally.
To achieve this, established a 'Prevent Culture' at all organisational levels, which oversees the continuous improvement of all processes, promoting a culture that puts prevention as its first priority and where the commitment and involvement of all the team members has become essential.
This preventive culture is achieved by maintaining and improving our trainings, as well as the awareness and participation of all colleagues and partners, emphasising especially the individual responsibility of each person to make the work conditions as a whole as safe and healthy as possible.
Gabitel provides all the necessary resources to make its vision of zero accidents possible for which it periodically reviews this policy and the actions derived from it.
This document constitutes the framework of reference to establish Health and Safety goals and objectives, as well as the monitoring and review of existing ones.